What are semi-permanent eyelash extensions?




Semi-permanent eyelash extensions are an exciting new way to
have thicker, longer and naturally abundant eyelashes. Eyelashes are made thicker and longer through professional application of an individual synthetic eyelash directly attached to the natural eyelash with a specially formulated bonding agent.

How do they look?




If you look up close you can see that these individually applied synthetic eyelashes actually appear to have a root. They have a natural looking curve so there is no need to use eyelash curlers. They come in various lengths and thickness to create a beautiful and natural look.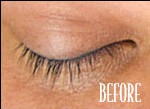 How do they feel?




When professionally and properly applied, you cannot feel any difference after having your lashes enhanced with semi-permanent eyelash extensions.

How long do they last?




Semi-permanent eyelash extensions last anywhere between 4-6 weeks depending on the life cycle of your own natural lashes and other factors. Though the average cycle of a single lash is about 90 days, factors such as your eyelash characteristics, lifestyle, and general maintenance will affect the lifespan of your lashes.

What kind of maintenance is required?
You may shower, swim or spa worry free with your semi-permanent eyelash extensions. However, daily or extensive exposure to steam or intense heat may cause the bonding agent to loosen.
Waterproof mascara is not recommended
Follow up appointments for "fills" are recommended every 3-4 weeks to keep up the look of your lashes. Appointments scheduled after that period will require an entire "new" set of lashes to be applied.
How long does the procedure last?




Appointments last anywhere between 45 minutes to 1 ½ hours depending upon the look you are trying to achieve.

Are semi-permanent eyelash extensions for everyone?




No, semi-permanent eyelash extensions are not for everyone. The following individuals are not candidates for semi-permanent eyelash extensions:
Pregnant Women / Nursing Mothers
Diabetics
Anyone with severely suppressed immune systems
What is the cost?
Full Set / First Visit $150
Fill / Maintenance (every 3-4 weeks) $75
Removal $75